Grand Vintage Collection 1999
Moët & Chandon holds one of the most prestigious collections of rare vintages in Champagne.
Each Grand Vintage in the Collection is unique, expressing the personal interpretation of a remarkable year by our Cellar Master Benoît Gouez.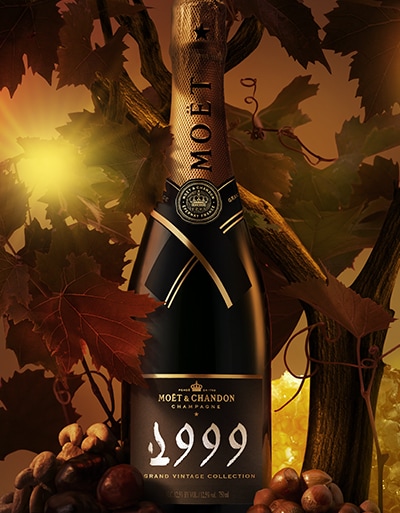 A bright, golden colour.
The champagne has developed a rich maturity with dark, warm aromas, initially sweet (liquorice, nougatine, Malaga) then dry (mocha, hazelnut, toast, charcoal).
On the palate, an impressive sensation of power and volume, of an enveloping body that is full yet light. Generous notes of candied grapes, dates and honey give way to a flavourful bitter finish on coffee or liquorice.
The 66th vintage in the history of the House
BLEND
Pinot Noir 38%, Chardonnay 31%, Meunier 31%

MATURATION
21 years

AGING AFTER DISGORGEMENT
6 months minimum

DOSAGE
5g/L extra brut
from the Grand Vintage Collection
Discover unique creations
Grand Vintage 2015
Envelopping | Ripe | Tender
Grand Vintage Rosé 2015
Powerful | Ripe | Spicy
Grand Vintage Collection 2006
Full-Bodied | Smoky | Stretched
all our champagnes
Open the door to the living heritage of Moët & Chandon.
A creative invitation from Benoît Gouez, our Cellar Master, to discover Champagne, capture time, and experience the stories of different yet similar years.
Winter brought a perplexing mix of rain and snow, cold and warm temperatures, sunny and grey skies. Spring was warm and free of frost, but hail affected an important part of vineyards in May. June saw hot weather while July and August were stormy. Global drought conditions then prevailed followed by "tropical" weather at the end of the summer, with very high temperatures in early September alternating with quite heavy rainfall. The harvest was a time of euphoria, as the bunches were very substantial, and the grapes were ripe, healthy and abundant.