"Inside At Alléno's Pavillon Ledoyen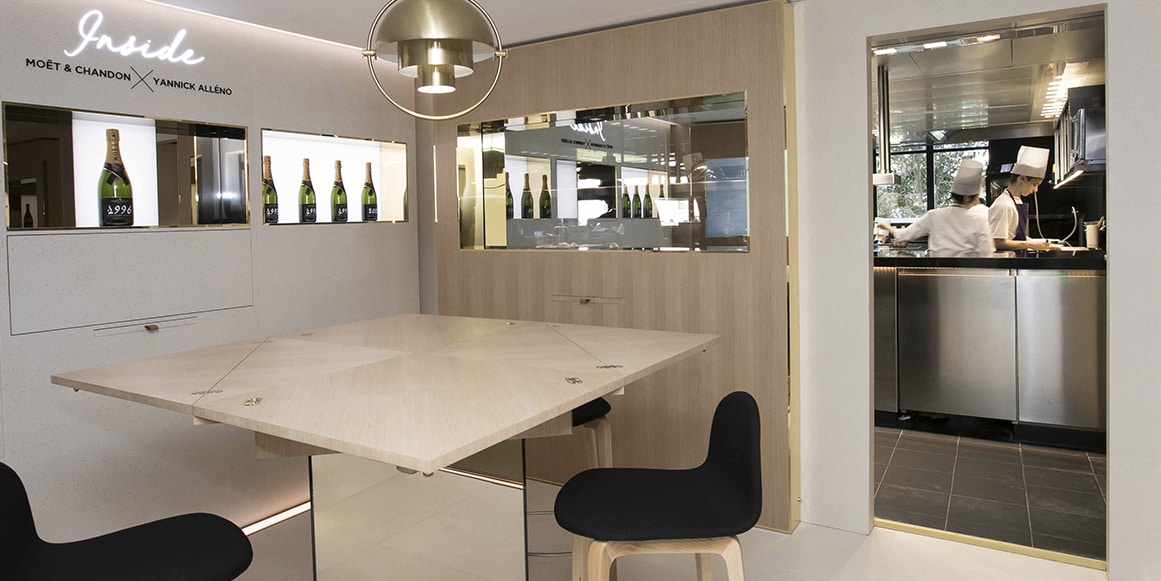 Moët & Chandon is proud to unveil 'Inside', the first gastronomy journey designed by twice three Michelin-starred French Chef Yannick Alléno together with Chef de Cave Benoît Gouez, in the kitchen of Paris' Pavillon Ledoyen on the Champs-Elysées.
The exclusive chef's table experience fuses Alléno's audacious experimentation in modern cuisine with Moët & Chandon's exceptional wine savoir-faire fueling an unparalleled creative combustion.   
Hidden behind a metal trompe-l'oeil door in Alléno's new state-of-the-art kitchen, Inside opens up to an elegant private room designed with natural materials. A large glass window offers guests an intriguing visual of the legion of cooks' bustling action, while inside, the serene atmosphere favour the indulgent wine savouring and culinary experience.
Moët & Chandon's ambassador since 2014, Alléno shares a bold pioneering spirit and a dedication to constant innovation with the French champagne House. In this ultimate venture, Benoît Gouez carefully selected some of Moët & Chandon's most refined Grand Vintage Collection champagnes ranging from 1990 to 2000, exclusively available at Inside, inspiring Chef Alléno to conceive some exquisite delicacies based on the singular personality – convivial, sophisticated or sometimes mysterious – of these delectable wines. 
#moetmoment
Explore Moët & Chandon : www.youtube.com/moet
Share Moët & Chandon: www.facebook.com/moet
Spread the word about Moët & Chandon: www.instagram.com/moetchandon