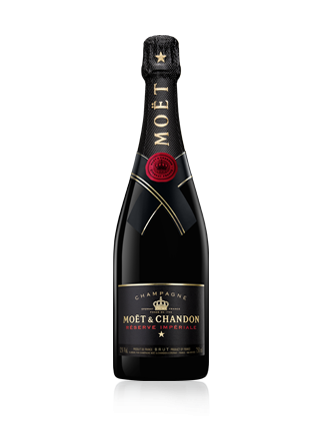 Moët Impérial is the House's iconic champagne. Created in 1869, it embodies Moët & Chandon's unique style, a style distinguished by its bright fruitiness, its seductive palate and its elegant maturity.
BLEND
Created from more than 100 different wines, of which 20% to 30% are reserve wines specially selected to enhance its maturity, complexity and constancy, the assemblage reflects the diversity and complementarity of the three grapes varietals :
THE BODY OF PINOT NOIR:
30 to 40%
THE SUPPLENESS OF PINOT MEUNIER:
30 to 40%
THE FINESSE OF CHARDONNAY:
20 to 30%
Dosage: 9 g/liter
Contains sulphites
TASTING NOTES
 An elegant colour
Golden straw yellow with green highlights
A sparkling bouquet
The vibrant intensity of green apple and citrus fruit
The freshness of mineral nuances and white flowers
The elegance of blond  notes (brioche, cereal, fresh nuts)
A GENEROUS PALATE COMBINING SUMPTUOUSNESS AND SUBTLETY
The delicious sumptuousness of white-fleshed fruits (pear, peach, apple)
The alluring caress of fine bubbles
The soft vivacity of citrus fruit and nuances of gooseberry

Apple
Peach

perry
Perfect serve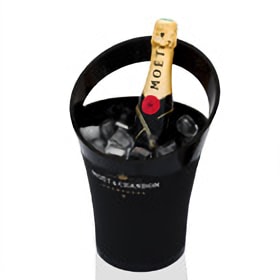 1
Step 1
Place the bottle in a champagne bucket, fill with ice cubes and add water. Leave for at least 15 minutes before serving.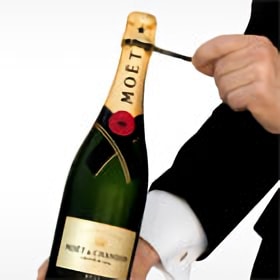 2
Step 2
Take out the bottle, wipe it carefully, then gently pull away the black tab.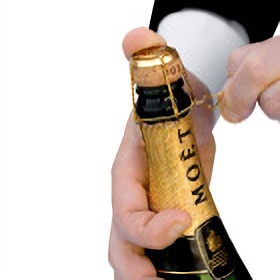 3
Step 3
Unfasten the wire cage without removing it completely while keeping the cork in place with the thumb.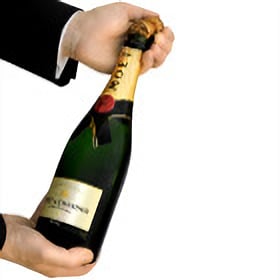 4
Step 4
Grasp the base of the bottle and twist it gently away from the cork (rather than twisting the cork away from the bottle). Gently remove the cork.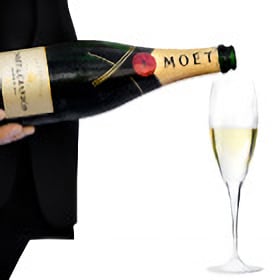 5
Step 5
Fill each glass two-thirds full. Ladies first, of course... and enjoy your guests enjoying the magic of Moët!